Making a difference every step of the way
Full-service Quantity Surveying with client needs at the core: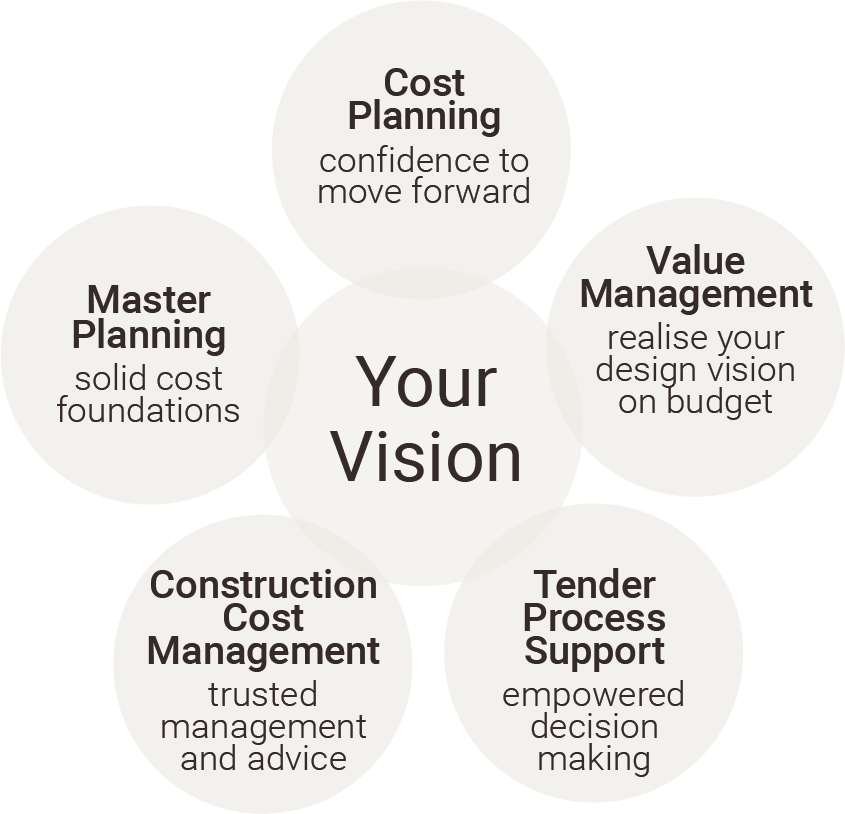 "We challenge our Quantity Surveyors to constantly ask themselves how they can make a positive difference in every stage of a project"
Masterplanning & Feasibility Studies
Ensuring planning decisions to connect buildings, social settings, and their surrounding environments have solid cost foundations.
Service Detail
Option analyses
Area-based Cost Plans based on Master Plan / Feasibility documents
Cost Planning
The cost plan is more than a spreadsheet of cost estimates, it is a active tool to manage project costs through all project stages.
Service Detail
Cost Estimating
Elemental Cost Plans based on Preliminary/Sketch Design/Concept Design/Feasibility documents.
Detailed Cost Plan based on Town Planning / Sketch Design/Schematic Design documents
Detailed Cost Plan based on Design Development documents
Detailed Cost Plan based on Tender/Contract documents
Value Management
Application of rigorous process, experience and creative minds to enable solutions to achieve your vision – on time and within budget.
Service Detail
Continuous review of the budget and scope of works to ensure that the budget is maintained,
Required cost studies, cost modelling and cash flows
Tender Process Support
Your confidence in the tender process is enhanced by our detailed knowledge of the numbers and experience in the local market
Service Detail
Tender Schedule of Quantities
Bills of Quantities
Tender evaluation, report, and recommendation
General contractual advice
Construction Cost Management / Contract Administration
Our crucial role ensures the construction process is managed within the terms of the contract and variations are scrutinised and negotiated in a fair and equitable manner.
Service Detail
Estimate, measure, price and negotiate variations
Investigate, negotiate, and make recommendations on increased cost claims
Advise on the costs of prolongation claims
Adjust provisional sums
Prepare monthly construction progress reports
Monthly financial position – future costs assessment, budget statements, cash flows, expenditure forecasts
Corrective action advice
Assess and value work progress, prepare progress payment recommendations and agree these with the contractor
Prepare final account statements
Defect Liability Reporting
Getting started
3 questions to ask at the start of the Quantity surveying process
We love design and are interested in finding more about your project. If you are not sure how to get started, you may find the following questions of help:

What decision needs to be made?
What has brought you to this point?
Is it a problem to be solved or an opportunity to take?
Do you need a top-level idea of cost to reassure a client?
Do you need to explore value management opportunities?
Are you trying to assess the costs of construction?

Who is making the decision and what do they need?
Are you needing an independent assessment?
What level of detail do you need?

What stage of the project are you at?
What level of detail has your design progress to?
What has already been spent?
The answers to these questions will help you clarify your needs. The next step is to get in touch with us.
We can help you decide which of our services would provide you the best solution. We  also have a simple document checklist to kick off the process.
"Finding solutions which increase financial viability, is where we can make a difference to the accessibility of environmentally sustainable design. That is inspiring."
PlanGreen– Environmentally Sustainable Design (ESD)
PlanGreen is a cost planning service that PlanCost Australia provides, focused on Environmentally Sustainable Design.
We provide trusted advise on the financial viability of current, leading-edge ESD design principles.
The services we offer include:
• Financial evaluations of ESD options & Life cycle costings
• Advice on energy efficient & environmentally sustainable design
• Advice on building fabric design, Use of recycled materials
• Value Management Reviews of ESD options
PlanCost Australia has been commissioned to provide consultancy services to a wide range of ESD projects which have successfully achieved ESD targets such as:
• Green Star Certification (Communities, Design & As Built, Interiors, Performance)
• Passivhaus Certification
• The Built Environment Sustainability Scorecard (BESS)
• Nationwide House Energy Rating Scheme (NatHERS)
• National Australian Built Environment Rating System (NABERS)
• Water Sensitive Urban Design (WSUD) – Victorian Planning Provisions (Clause 56.07-4) compliance
PlanCost's methodology is based on:
Victorian Building Authority Capital Development Guidelines
Australian Institute of Quantity Surveyors Cost Control Manual
We ensure the quality of our Quantity Surveying practices via:
Reliably researched information
Accurate estimation methods capable of independent testing and verification
Assumptions and qualifications are supported by a level of detail to ensure they are clearly understood
Our strategy to achieve your project vision:
A collaborative team-based approach, focused on achieving team objectives, enabled by:

Clear, timely and proactive communications
Clear instruction on required inputs to QS processes
Effective, adaptable stakeholder engagement

Intense, early focus on known and potential costs to ensure an on-budget project start
Proactively seeking cost savings and innovative design solutions
A comprehensive, current project database, to accurately benchmark costs to identify cost-effective solutions and provide budget confidence
Meaningful, flexible, timely reports & documentation, designed to facilitate client decision making
Rigorous construction cost control to ensure efficient progress and quality of works including:

Effective determination of claims for variations, extensions of time and delay
Actively coordinating and reviewing mechanical and electrical services costs
Auditing every contract cost to secure fair and reasonable prices
It is enabled by
Rigorous processes and proprietary tools
Qualified and experienced quantity surveyors
Continuous internal consultation ensures shared key learnings and skills
Our Directors closely supervise and are involved with all projects
 
Quality systems
PlanCost has a strong commitment to evidence-based decision making and continuous improvement. We have an in-house Quality Assurance system based on accountability, collaboration, and a customer centred approach.
Our quality processes continuously cycle through planning, focused action, and review. This is reflected at a job level through:
Scoping
Consultation with stakeholders, consultants and internally within our organisation
Benchmarking to industry and client guidelines
Peer Review for thoroughness, accuracy and risk
Post Evaluation – internal and external
All PlanCost's Quantity Surveying services conform to the requirements of Australian Standard/New Zealand Standard ISO9001.
OH&S
PlanCost Australia Pty Ltd is committed to ensuring the health, safety and welfare of all persons who may be affected by its operations and activities undertaken at the workplaces under its direct control.
We commit to establish measurable objectives and targets to ensure continual improvement and the prevention of work-related injuries and illness.
We are committed to complying with Federal, State or Territories legislation, regulations, codes of practice and other guidelines and meeting the requirements of AS/NZS4801 – Occupational Health and Safety Management Systems.
Industry memberships
PlanCost VBA Registration – CQS – 54305
PlanCost Staff are active members of the Australian Institute of Quantity Surveyors